High Impact Ceramic Event Anniversary Chips
4Heros has partnered with a Veteran Owned Business to offer our customers high impact 1 3/4" ceramic chips that are manufactured here in the United States. These highly durable, lightweight and cost effective chips can be customized with any logo, photo, graphic or whatever else your mind can think of!
These are a great alternative to the more expensive metal challenge coins. Because of their price point, these chips can be used to commemorate celebrations of events and
anniversaries or also be used to promote businesses. Sponsors, Businesses and Posts can advertise on the side of the chip.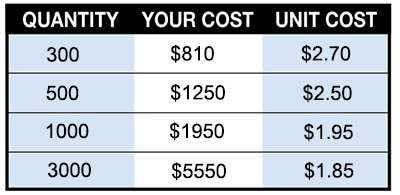 Onetime set up charge of $99.00