Anita Loando-Acohido
May 07, 2022
It was a pleasure to work with Wendy on the design and colors for my personal pin. I will certainly pass this on to my friends in need of your service. I now have the pin ready for distribution at my State Convention.  Thank you so much to 4Heros.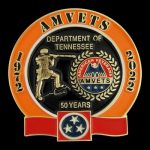 Lloyd D. (Butch) Adams
ANVETS Department of Tennessee
March 19, 2022
I received a cold call one day from Andy Hoffman regarding 4Heros and what they could do for AMVETS. At the time of the call, I was in the process of designing & ordering 2022 50th anniversary State Pins for AMVETS Tennessee. Andy discussed the capability's of 4Heros and guided me to their website. I was totally impressed by the products displayed and I asked Andy if he could send me samples that I could show AMVETS membership. The samples arrived at my office three days later. I had been working with another supplier of pins and had been waiting 4 weeks for them to send me sample and they still have not arrived.

Andy and his team received my rough idea of a pin design which was drawn using Excel program. 4Heros team took my idea and made it reality. They sent me many ideas using different color schemes for me to choose from. Each time we would be on the phone discussing what we liked and didn't like about the recommendation.

After just a few short days we agreed on a design. 4Heros team went into sample production. I received samples of my actual pin design using shiny metal and antique metal for us to choose from.

By the way the cost per pin was excellent. Using 4Heros as the 2022 supplier our Veterans Service Organization saved over $1,200 compared to what we paid their competitor in 2020. No pins were purchased in 2021 due to Covid.

I highly recommend 4Heros and their products.

4Heros:
• Great to work with
• Committee to customer satisfaction
• Reasonable prices
• Meet deadlines
• All around good company for VSO's

Lloyd D. Adams
AMVETS
Department of Tennessee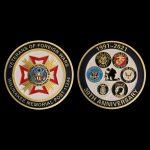 Mike Schott
VFW Post Memorial 11244 Waunakee Wi
February 25, 2022
From my first contact to the delivery of the challenge coins, everything was seamless.  Finding the right coin took a few tries, but the representatives were patient and helpful. The production time was also quicker than expected.  A total wonderful experience from beginning to end.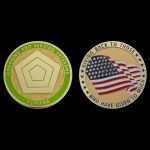 Kendra Oakley
February 19, 2022
Andy at 4Heros is great to do business with! Very responsive and mange's to deliver quality goods in a timely manner. Thank you!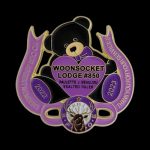 Paulette Beaulieu
February 18, 2022
Your Customer Service was very good, and very through, I was very satisfied how everything went. I would recommend people to your company, you take pride in your customers.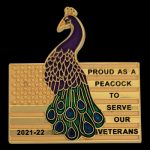 Sandra Johnson-Leu
Veterans of Foreign Wars Auxiliary, Dept of NC
January 22, 2022
I have enjoyed working with Wendy and everyone from 4Heros. They were so patient with me as I worked to get my designs exactly as I wanted them. Several changes, additions and color movements later and my pins and coins were perfect. Everyone has loved them. They made the entire process so easy and painless. Then each time I have had to order additional pins/coins the order was processed quickly so there was no delay in receiving my items.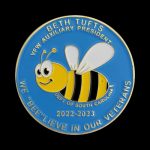 Beth Tufts
December 15, 2021
Wendy was awesome! She knew what I wanted right away. We only had to tweak the design a couple of times. I can never thank you enough for the pins!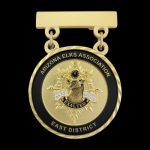 Larry Pratt
December 01, 2021
This is my second time working with this company and both were great. We had a custom made challenge coin made for state PRESIDENT with Marine logo and a PER medal. Karen Hoffman is a great salesperson. Very easy to work with and is very patient with changes on the fly. We will work with her again when needed.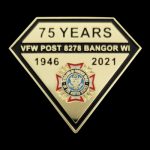 Paul D. Wuensch
Clements-Anderson-Leis, VFW Post 8278, Bangor WI
November 29, 2021
We are honored to be celebrating the 75th anniversary of our VFW Post charter. As part of the commemoration we ordered Diamond Jubilee pins from 4Heros. I was pleasantly surprised at the ease of ordering, the proof and approval process as well as the thorough communication from the team at 4Heros. As for the pins, we couldn't be happier. They are high quality, no cheap plastic coatings to fade or weather. We are very happy with the product and the entire experience.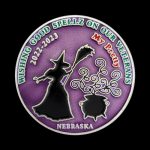 Vicki Luebbe
VFW Auxiliary President for Nebraska
September 18, 2021
Now that I have all my pins and they came out better then the sample they sent me, I can't wait to give them out to my Auxiliary friends!
Thank you 4Heros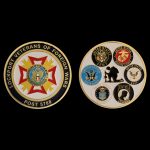 KEITH CARBERRY
Veterans of Foreign Wars Post 5788
July 29, 2021
I purchased Challenge Coins for my VFW. They were very helpful with the design and had a quick delivery of my customized coin. We actually sold out of our original order and I've already re-ordered 100 more due to their popularity. Highly recommend.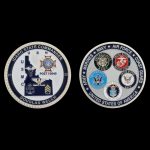 Douglas Welch
Veterans of Foriegn Wars (VFW) Dept of Idaho
June 23, 2021
4Heros did an outstanding job on the pins and coins I ordered. Easy to work with in design and ordering. When a problem came up in delivery of the items they went out of their way to make sure I received the pins and coins at the Convention site. Highly recommend them and will use again without hesitation.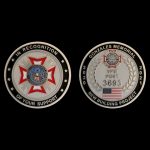 Brent Gautreau
April 27, 2021
It was a pleasure working with the 4Heros support staff. The design phase was a breeze even with multiple changes. I always received a timely answer to my questions and concerns. The finished product is beautiful and just as I ordered.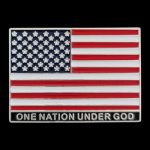 Jean Brooks
April 21, 2021
They are really a good company. Got right on my idea and got the design to me in a few days. Pricing was good as well. Try them, You will like them.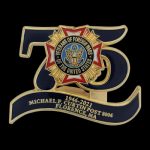 John Miller
VFW Post 8006 Florence, MA
April 21, 2021
I worked with Tracy and she was a great help and answered all my questions.  Process time from start to end went quickly and smooth. Thank You
4Heros!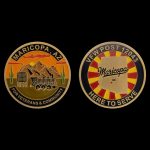 Janie Miller
March 18, 2021
It has been a pleasure to work with 4Heros for about 15 years now, getting pins and coins for my VFW District, myself as Department and Western Conference Chaplain on the VFW side of the aisle and my Grand Commander's pin for the Cooties as well as my Grand Chef de Gare pins in the 40&8.
Great work, great relationships, prompt designs, quotes, and deliveries!
Would never go to another vendor!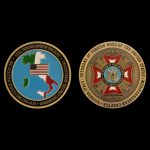 Mark Bostic
March 12, 2021
I would like to thank 4heros and Karen for the outstanding service that they did for our coin. They very patient with all the changes we asked for. They are the best company that I have dealt with.
Thank you for your service
Mark Bostic
Adjutant
Mediterranean Post 8862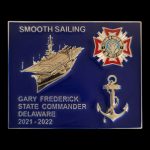 Gary Frederick
February 18, 2021
Your service was GREAT, and Tracy BROWN COULD NOT HAVE DONE A BETTER JOB- THANKS TRACY!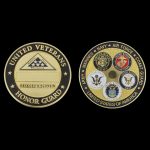 David Steinert
United Veterans Honor Guard
February 09, 2021
We have been customers for over 10 years. We designed a coin to be given to a veterans next of kin after military honors have been given. 4Heros gave us exactly what we asked for. When we need more coins, Karen and their crew are always helpful. We are very pleased with their product and customer service.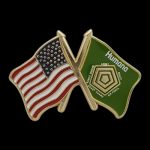 Scott Mathis
December 22, 2020
4Heros not only has quality products but Andy and Karen are such professionals. They always follow through in a timely manner and make sure what they are creating is top notch. Looking forward to doing a lot more business in the future.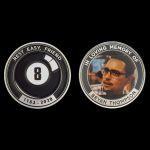 Steven Wampler
Advantage Trophy and Engraving, LLC
December 18, 2020
4Heros is my go-to when I need Challenge Coins, Pins or any kind of medal I can't produce in-house. Every product is first rate and delivered on time.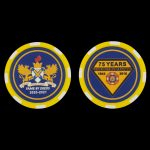 Todd Taylor
November 09, 2020
Exceptional customer service... Products were delivered as promised and were as expected.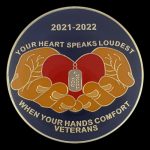 Jeanette Henry
VFW Auxiliary Department Of Iowa
October 29, 2020
I am very pleased with the pin you designed for me when I am Department VFW Auxiliary President in 2021-2022.
Thanks
Jeanette Henry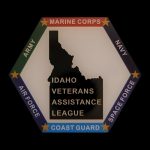 Cynthia Jones
Idaho Women Veterans Organization
October 02, 2020
4Heros is an easy company to work with and the response is done very quickly, accurately, and respectfully. Nice to do business with. Very happy with the result.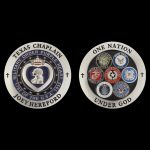 Joey Hereford
September 30, 2020
I spent a few weeks e-mailing back and forth with a different coin company to get a nice proof. After the second revision, it was still very bad so I called them. Their customer support essentially told me let's not talk about how bad we did, and wouldn't listen to me about what needed to happen.  Then I called 4heros.com. Within 5 minutes I had all the needed information, and the woman who answered was very friendly and helpful.  I have already recommended y'all to a friend.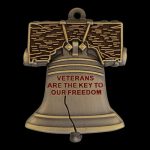 Valorie Wrinkle
Veterans of Foreign Wars - Department of Oregon
September 18, 2020
We have been working with Tracy at 4Heros for a few years now, and she never disappoints. Tracy can take an idea that exists only in our minds and turn it into a beautiful pin or coin. She is patient with us as we change our designs until it is absolutely perfect. We could not ask for better service from a company, and the pricing is competitive. We are customers for life!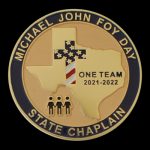 Michael John Foy Day
September 03, 2020
Andy reached out to me providing assistance on the design of my special pin and coin. He has done such an amazing job with this. 4Heros kept me in the loop via emails to the last little detail making sure that is want I wanted and I have enjoyed the personal touch. I strongly would recommend them to anyone in the market of a special pin and/or a coin.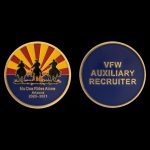 Kim Sloan
VFW Auxiliary Department of Arizona
August 19, 2020
4Heros can be counted on to take your idea/design and make it a reality. We are always more than pleased with outcome of pin and coin designs.
And they deliver when promised!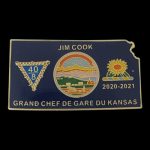 James W Cook
July 06, 2020
Great looking pin. Never anticipated the events of the year. So when I finally get to use the pin it will be off by a year but it will be remembered as the year COVID 19 changed our world. But like I said I really do love the pin, it is exactly what I wanted.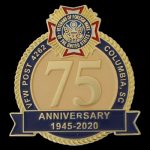 Omega Harris
May 27, 2020
4Heros did a superb job on our 75th Anniversary lapel pin and are true HEROES committed to serving veterans!!!!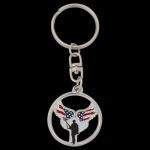 Nancy Cone
Vfw Auxiliary Dept. Of Florida, Presidents
May 04, 2020
I have ordered my Presidents pins for my year and most recently key chains, both were based on a vision of what I wanted. I explained what I wanted, provided pictures of what I wanted on the pins, and what I wanted the key chains to look like. I have to say it was as if they read my mind!  My pins were great and we sold a lot of them- got our cost back and then some for our budget! The key chains are for awards for the end of the year and I am happy they knew exactly what I wanted! I will recommend 4Heros to anyone looking for quality work and on time delivery of the product for a reasonable price.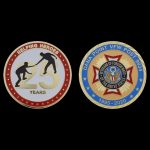 Wayne Yost
April 14, 2020
I want to thank Andy and the entire staff at 4Heros for an outstanding job in designing, creating, and manufacturing, two designs of our VFW Challenge Coins. This truly was a "challenge" since our VFW Post's 25th anniversary occurred right at the beginning of the Corona Virus outbreak in China. However, due to the diligence of the people at 4Heros, they were able to deliver our commemorative coins in time for us to be able to distribute them to our Veterans, at our celebration aboard the Battleship Iowa.
JOB WELL DONE - MISSION ACCOMPLISHED!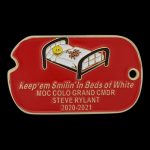 Steve Rylant
April 13, 2020
The pins I ordered were received today. They were just as requested and the delivery was a promised. They look great!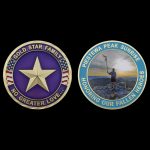 Ernest J Martinez
Piestewa Fallen Heroes Memorial
March 20, 2020
Over the past five years Karen Hoffman and 4Heros have designed and produced our pendants, pins and challenge coins. We go to her, first of all, because of her rich creativity and expertise in offering us ideas and designs based on what we wanted. And she does not charge for that, even though we will sometimes go through several drafts. Secondly, she works well with us because of her personality and her focusing on our needs, whether they be budgetary or program related. She has gone above and beyond many times in helping us in these areas. Thirdly, she is very knowledgeable about the metals, processes and timelines involved in production, and gives us the appropriate deadlines to meet in order for her product to be ready on time. The products are always perfect and payment is a breeze on her website!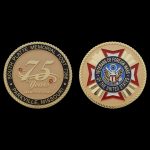 Robert J Eckerle
February 29, 2020
Wendy was great to work with, design came together quickly and professionally. Changes were accepted and final design was exceptional.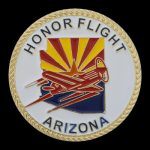 Diane Franzese
January 20, 2020
After working with Wendy for a relatively short period of time it became very apparent that her accuracy, communication, dependability, innovation, interpersonal skills and knowledge were far above average. She is an exceptional representative of 4Heros and knows how to make things happen. We have placed a fairly large order with her and I am sure, will work together again in the future. Thank you Wendy & 4Heros.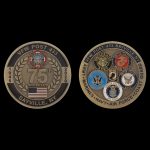 Joan Furey
January 17, 2020
We worked with 4heros in designing a challenge coin for our 75th Anniversary.
Thanks to Wendy for doing a great job. The coins were recently distributed to our membership and they were very pleased with the coin. Thanks so much to 4heros for all their hard work.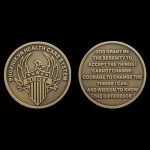 Bill Talcott
Phoenix VA Health Care System
January 15, 2020
I have been very pleased with the quality of the challenge coins, the service and the pricing.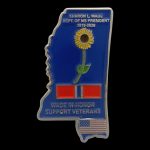 Sharon Wade
December 21, 2019
Awesome work - very easy to work with. Give them ideas of what you want from size to what you want on your pin and they are easy to work with and make your ideas into something you would be proud to hand out. Thanks again for everything.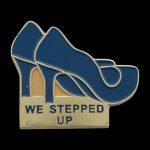 Jennie Maune
American Legion Auxiliary of Indiana
December 11, 2019
I couldn't be happier with my pins. I got just what I wanted and really quick response and a very reasonable price.
I get so many compliments on how pretty they are.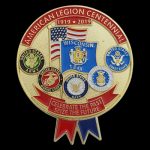 Lois Volkening
October 22, 2019
Easy and staff very helpful with developing our pin design. A pleasant experience and we are very pleased with the results.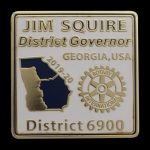 Jim Squire
September 18, 2019
It has been a wonderful experience working with Karen and 4Hero's, and I recommend the caliber of their work and the speediness of their delivery without hesitation.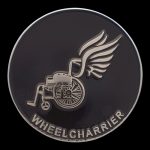 Daniel (LT DAN) Holman
March 11, 2019
I have used 4Hero's for many years and many items. Their product is great and their personnel are there to help you finalize a design that you are acceptable with.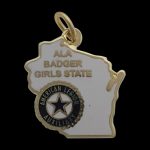 Bonnie
American Legion Auxiliary, Dept of Wisconsin
January 14, 2019
I have worked with 4Heros many times on various pins and charms. Their design team is fantastic. They do a great job of working with our national organization to ensure the designs meet trademark requirements and their responsiveness to meeting our deadlines is phenomenal. I highly recommend 4Heros to anyone looking for a high quality product at a reasonable price.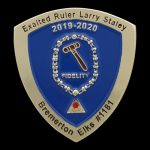 Larry Staley
January 02, 2019
I worked with Wendy on the design and couldn't be happier with the results. 4Heros has done other projects for our lodge and they always looked great.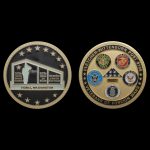 Janet Hughes
September 27, 2018
Great people to work with from concept to final project. The order was done quickly and professionally. I will definitely look to 4heros for future orders!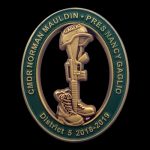 Norman W. Mauldin
5th District, Department of Michigan, Veterans of Foreign Wars
August 09, 2018
The crew here were a pleasure to work with, and caught a minor detail that would have become a major issue. Thank you so much Laura, Andy and Karen.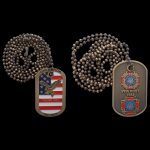 Linda Ferguson
June 19, 2018
I have worked with 4Heros for many years, the quality and customer service is excellent! I highly recommend them if you are looking for new ideas and designs.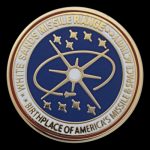 Theresa Sanchez
25th ID -White Sands Missle Range
May 29, 2018
Excellent customer service and assistance all the way through - design to delivery. We are thrilled with the final product - high quality, classy looking unit pins.
Many thanks to Wendy Zaborowski - for assisting us with the design and answering all our questions throughout the process!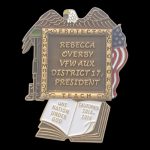 Rebecca Overby
VFW Auxiliary District 17
May 19, 2018
My Husband Garry Overby went 4Heros last year for his District Commanders pin and I was impressed with what they did for him. I decided to go to them for my District Presidents pin. I was blessed to be able to work with Tracy as she also worked with Garry. I explained to her what I wanted and she came through. I did make a couple of changes and she did not even bat an eye. I received my pins yesterday and they are perfect. 4Heros is an amazing company and provides an excellent that provide a good quaulity product. Thank you Tracy and team for a job well done.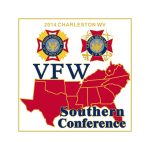 Shawn Kevin Light
VFW Department of West Virginia
May 02, 2018
Quality work. Courteous staff. I feel like a valued customer.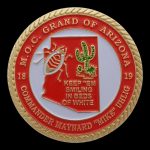 Maynard Uhlig
April 02, 2018
First time I needed anything like these pins and the staff was very timely, responsive, and helpful. They made the entire process very easy and explained things clearly and satisfactory. I would recommend them to anyone looking for organizational pins or coins.
Georgina
November 02, 2017
Awesome service!!! Very responsive and knowledgeable! Highly recommend! Will definitely be back to do more business!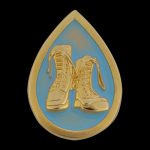 Peter H. Glasgow
September 13, 2017
Tracy the person I spoke to handled my purchase professionally and patiently. Delivery was surprisingly fast (Thank you)!  If I have a need in the future I'll check your site first.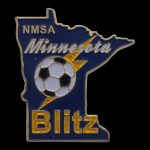 Nicole Lucas
July 31, 2017
Fantastic company and design. Very patient with questions and changes. We will use again for future orders.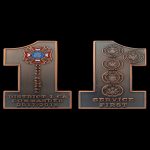 Doug Scholl
VFW Department of California First District Commander
July 02, 2017
What a team! Was able to take my idea off a scratch pad and and produce my first ever custom die cut coin. It turned out amazing and everyone that has received it has loved it. Highly recommend and will use 4Heros for many more coins.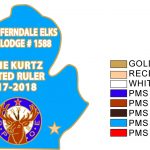 Jennifer Kurtz, Ferndale Elks #1588
June 06, 2017
We are very pleased with the pins we received from 4HEROS - they are beautifully crafted and high quality! The transaction was easy and quick! Great customer service!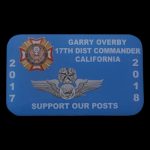 Garry Overby
June 06, 2017
Tracy Brown was great she worked with me on my pin design until we were both satisfied with the product she's a great asset to your company!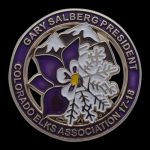 Gary Salberg
Colorado Elks Association
May 24, 2017
4Hero's did an outstanding job of creating my pin from a picture of a tattoo I sent them. their professionalism and service is outstanding. They did a fantastic job in a short period of time. Easy to deal with exceptional service. I would recommend them for anything you need to have done. Gary Salberg, President-Elect, Colorado Elks Association.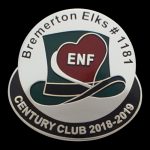 Gus Holstein
Bremerton Elks Lodge #1181
February 22, 2017
I, and many members of my Elks Lodge, have been doing business with 4Hero's since 2004. 4Hero's has provided the highest quality merchandise with most reasonable pricing coupled with superb customer service. 4Hero's is the vendor of choice in my Lodge. 4Hero's has provided pins for Elks Charity functions, car shows, major state Elks projects, military reunions sponsored by Elks members, and even for the President of our State Elks Association. Based on my experience while attending many Conventions and visiting other Elks Lodges, the quality of work coming from 4Hero's is second to none. If you are looking for an honest, professional, customer service oriented company, search no-more-4Hero's is the choice.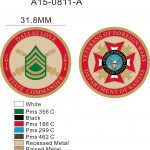 Dallas Love
January 11, 2017
4Heros is a great company to work with. They did both my commanders coins and pins. It was a great experience. Also when the VFW Riders for my post needed more Riders coins, they were able to respond quickly.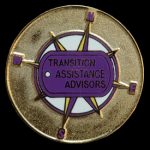 Jeff Unger, Adjutant
Truax-Longmire VFW Post 8483
July 19, 2016
I have personally known and worked with 4Heros. Throughout my time in working with them and their team of experts, they have executed their duties in an exemplary manner. 4Heros is quick to offer suggestions and viable ideas for improvement. 4Heros has proven to be a very reliable company who consistently produces superior results. 4Heros has outstanding business integrity, places their clients before themselves, and strives for excellence in everything they pursue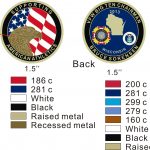 Bruce Sorensen, Adjutant
PSO Duck Creek VFW Post 7534
July 19, 2016
Working with 4Heros has been an enjoyable and successful experience. You really care about getting it right for your customers by going out of your way to provided design updates and samples for the many changes that customers like us demand when there are a number of people involved on a committee trying to reach a compromise on the final design of a pin. Your prices are reasonable and your customer interaction skills are admiral and enjoyable. We look forward to doing more business with you.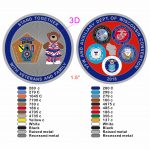 Linda Moran
Department VFW Aux. President of Wisconsin
July 19, 2016
Ordered my President pins and Cancer pins through 4Heros and was very impressed with their services and the quality of the pins. They bent over backwards to make my pins exactly how I wanted them to be. Everyone keeps asking where we had them made.
Sue Wells
Ladies Auxiliary President CA 2009-2010
July 19, 2016
Please add my appreciation for the prompt and professional service I received, and continue to receive, from your company when I ordered my pins, prior to my year as Ladies Auxiliary VFW, President of California. Your company bent over backward to make the pins exactly as I described what I wanted. You even went so far as to send the samples of my hummingbird president's pin in a couple of different shades of gold, and my Rosie lunchbox enameled and not enameled, so that I could make the choice of which I preferred. Your prices are very reasonable and you are a joy to work with. I ordered different quantities of 6 different pins and all were reasonably priced and made exactly to my specifications. Thank you for making one of the major tasks of preparing for "my year" easier.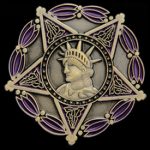 Gwen Rankin, National Jr. Vice President
Ladies Auxiliary Veterans of Foreign Wars
July 19, 2016
Working with 4Heros has erased the trauma that comes with pin selection when working within a budget. The artwork samples and choice of colors in the sample truly reflected "me". I was afforded such patience that went above and beyond allowing the design I had in "my minds eye". I enjoyed the interaction as it made me feel the focus was on my vision and my needs- I never felt put off or that they were to busy for me. I would not hesitate to use them again nor will I hesitate to recommend them. Thank you for a job well done!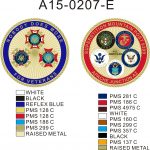 Darlene Tryon, Office Manager
July 19, 2016
I just recently received the coins I ordered from you and wanted to thank you for matching the descriptions I gave you EXACTLY! All I can say is.........actually I have no words to express my gratitude to you and your staff for your prompt and courteous customer service! I can hardly believe the quality of the coins, they are truly something to be proud of! Quite simply, thank you very much. It is truly a pleasure to do business with someone who really cares about and listens to their customers like you do. You'll continue to have repeat business, and I'll be sure to send others in our organization to you as well! Once again, thank you and please congratulate everyone on your staff for a job well done.
Steve Surface
State Commander Dept of Florida V.F.W.
July 19, 2016
Let me say you have the most professional staff I have had opportunity to work with. I gave you my idea in what I wanted and you took it and made it pop. My pins and my challenge were the best. I was so impressed that I told my officers of both the VFW and Auxiliary to see what you can do for them. They were impressed as I was. I gladly recommend you to any body that will listen. I again want to thank you for making this a great year for me and taking one more headache away.
CPT ERIC KRUEGER IN
CDR A / 2-127 IN "Punisher 6" MDHU, IRF Commander -
July 19, 2016
Being deployed to Iraq and a first-time customer, working with the staff at 4Heros left an impression on me in a manner that no other company has been able to do. I am a firm believer in the company, what their mission is and the services that they provide to the consumer. My company of professional veteran soldiers all had smiles at the product from start to finish. We are very pleased with the services provided by your company and employees that it makes me proud to know that we worked with such a great company to give my soldiers a great product that I highly recommend to future customers. I will definitely be working with 4Heros in the future!